GPS navigation upgrade for Fiat Freemont Radio - uConnect 8.4' touch-screen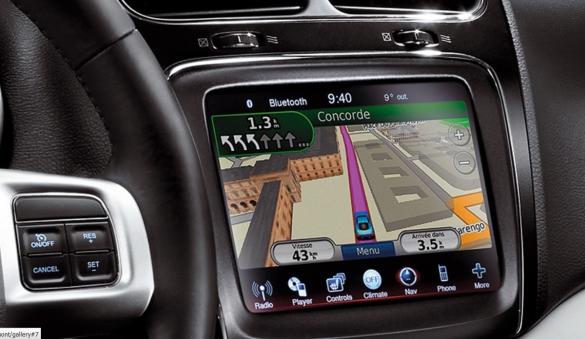 ---
Main features:
Upgrade GPS navigation fully controlled by OEM touch screen.

Switch to navigation mode with originaly button


Fully compatible with original parking system and original reverse camera. An aftermarket camera with automatic switch while reverse gear gear engagement can be installed too.

Video in motion, for all external multimedia devices connected to the included video interface.

Support both PAL ed NTSC esternal multimedia devices.

Easy and quick operation.

Full Europe maps based on the famous iGO PRIMO® GPS navigation software preloaded on the provided SD card.


Latest maps warranty downloadable within 30 days (first GPS fix) + future updates on www.naviextras.com.

External speaker for navigation guidance with independent volume adjustment.

Easy Plug&Play installation, no need to code by dealer.


2 RCA video inputs for external devices (DVD Player, DVB-T, ecc), 1 RGB video input and 1 reverse camera input (automatic switch).

iGO PRIMO main features:
The 3D map display allows better orientation thanks to the display of the roadways and the profile of terrain elevation.

Within large cities are shown on the map the major buildings and landmarks.

The powerful graphical interface allows you to display 3D information up to 20 km. of distance.

Fast route calculation and re-calculation.

The search for points of interest (POI) can be done in different ways such as near your current location or along the planned route.

Destination with steps

Speed alerts

Day / Night mode


Advanced voice guidance (man / woman).

Recent destionation list

Europe map with 43 countries:

Western Europe: Andorra, Austria, Belgium, Denmark, Finland, France, Germany, Gibraltar, Ireland, Italy, Liechtenstein, Luxembourg, Monaco, Netherlands, Norway, Portugal, San Marino, Spain, Sweden, Switzerland, United Kingdom, Vaticano
Eastern Europe: Albania, Belarus, Bosnia-Herzegovina, Bulgaria, Croatia, Czech Republic, Estonia, Greece, Hungary, Latvia, Lithuania, Macedonia, Montenegro, Moldova, Poland, Romania, Serbia, Slovakia, Slovenia, Turkey, Ukraine
For further information about iGO PRIMO® navigation software please visit NNG website.


The package includes:

GPS navigation unit

Multimedia Video interface

SD Card with iGO PRIMO® preloaded maps

External speaker for GPS navigation

GPS antenna indoor

Plug&Play harnesses

RCA/RGB (2x AV + 1x retrocamera) cables

Electronic circuit to place inside the OEM unit
---
Compatibility:

| | |
| --- | --- |
| Model | Radio |
| Fiat Freemont | Radio - Uconnect con monitor da 8,4" |
Limitations: this interface allows you to insert an external video source, the audio signal must be connected to the original AUX input,please check if your vehicle have an AUX input before to purchase. If the vehicle does not have AUX input, you must use an additional interface (see in the accessories) The included navigation system works with its external speaker (no AUX input is required)

---
We recommend the installation of this interface by a professional.
The driver must not be distracted by moving pictures. By law, watching mobbing pictures while driving is prohibited. This Interface should only be used to display fixed menus or rear-view-cam pictures when the vehicle is moving, for example the MP3 menu for DV upgrades.