SHIFTPOWER 4.0+ performance module, eliminates acceleration delay, selectable driving mode, control from bluetooth app
Performance module that will change your driving experience by eliminating the acceleration delay with various driving and safety modes. It allows maximum customization of its performance now with integrated Bluetooth, and App available for iOS and Android.
Main features:
Immediate acceleration response

Great driving pleasure

Overtake safer

Sportier driving

Simple installation (fast connection without the need for any programming)

Plug and play (does not alter the originality of the car)

Module with integrated bluetooth, controllable and configurable of the application on smartphone

Ergonomic button with soft finish

Quality plug & play harnesses with automotive standard expansive nylon mesh protection and waterproof IP67 connectors.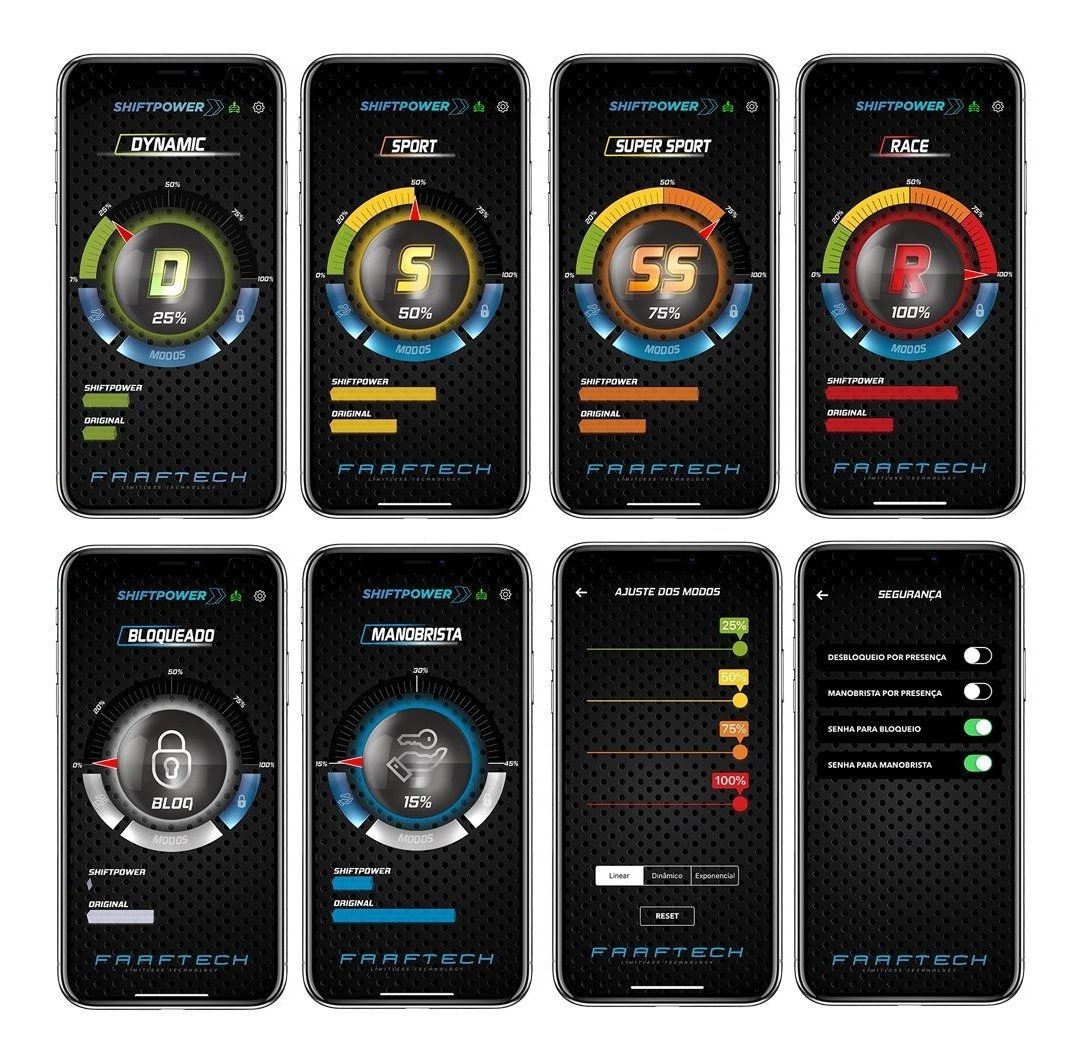 Driving mode:
- DYNAMIC (green)
Smooth response, moderate acceleration gain. Suitable for use in the city.
- SPORT (yellow)
Medium-fast response. Suitable for use in the city.
- SUPER SPORT (orange)
Quick response with a sportier feeling. Suitable for use on highways.
- RACE (red)
Extremely aggressive response. Suitable for use on motorways, ideal for fast overtaking.
Security mode:
- MANEUVER MODE
The maneuver mode limits the accelerator pedal to 30% and can be adjusted from 15 to 45% through the application, it can be activated both from the app and from the button.
With the use of the App it is possible to configure the automatic exit from this mode for presence when approaching the vehicle, making it much more practical.
- LOCK MODE
The lock mode works like an anti-theft device, completely canceling the throttle response. It can be activated both from the application and from the button.
As in the maneuvering mode, it is also possible to configure the automatic exit from the mode with the presence lock.
SHIFTPOWER APP:
To allow maximum customization of the performance of the ShiftPower module, download the SHIFT POWER application. Available for IOS and Android.
The driving modes Dynamic, Sport, Super Sport and Race can be configured from the App to have a personalized response with quick access via the button.
A NEW PRODUCT. A NEW EXPERIENCE. THE SAME CAR!
- Total customization with over 300 performance maps.
- Automatic or manual adjustment of button illumination for day and night modes.
- Automatic deactivation options for maneuver and lock modes via Presence Lock.
- Configure limits for valet parking mode.


Compatibility:



MODEL
MODEL YEAR
PACKAGE
SYSTEM
A1
2010 até 2014
-
FT-SP10
A1
2015 até 2019
-
FT-SP18
A3
1996 até 2006
-
FT-SP10
2007 até 2019
-
FT-SP18
A4
1995 até 2008
-
FT-SP10
2009 até 2016
-
FT-SP18
A5
2007 até 2016
-
FT-SP18
A6
1994 até 2007
-
FT-SP10
2008 até 2018
-
FT-SP18
A7
2011 até 2018
-
FT-SP18
A8
2004 até 2009
-
FT-SP10
2010 até 2019
-
FT-SP18
Q3
2009 até 2019
-
FT-SP18
Q5
2009 até 2016
-
FT-SP18
Q7
2006 até 2015
-
FT-SP10
R8
2007 até 2019
-
FT-SP18
RS3
2011 até 2018
-
FT-SP18
RS6
2008 até 2018
-
FT-SP18
RS7
2014 até 2016
-
FT-SP18
RSQ3
2012 até 2018
-
FT-SP18
S3
1996 até 2003
-
FT-SP10
2004 até 2019
-
FT-SP18
S4
1996 até 2007
-
FT-SP10
2008 até 2016
-
FT-SP18
TT
1998 até 2005
-
FT-SP10
2006 até 2019
-
FT-SP18
TTRS
2010 até 2019
-
For models not listed please contact us before purchasing