Video in motion interface for MyGig with built in WiFi streaming capabilities,rear camera and multi camera input, multimedia Audio Video input for external devices,HDMI input.
Specific model for European cars.(Works also on US models)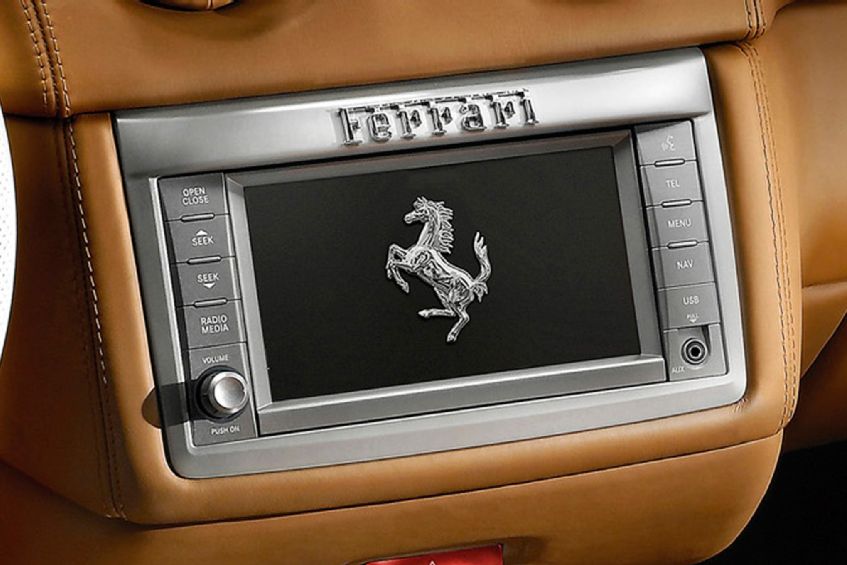 Fully Plug & Play with remote control.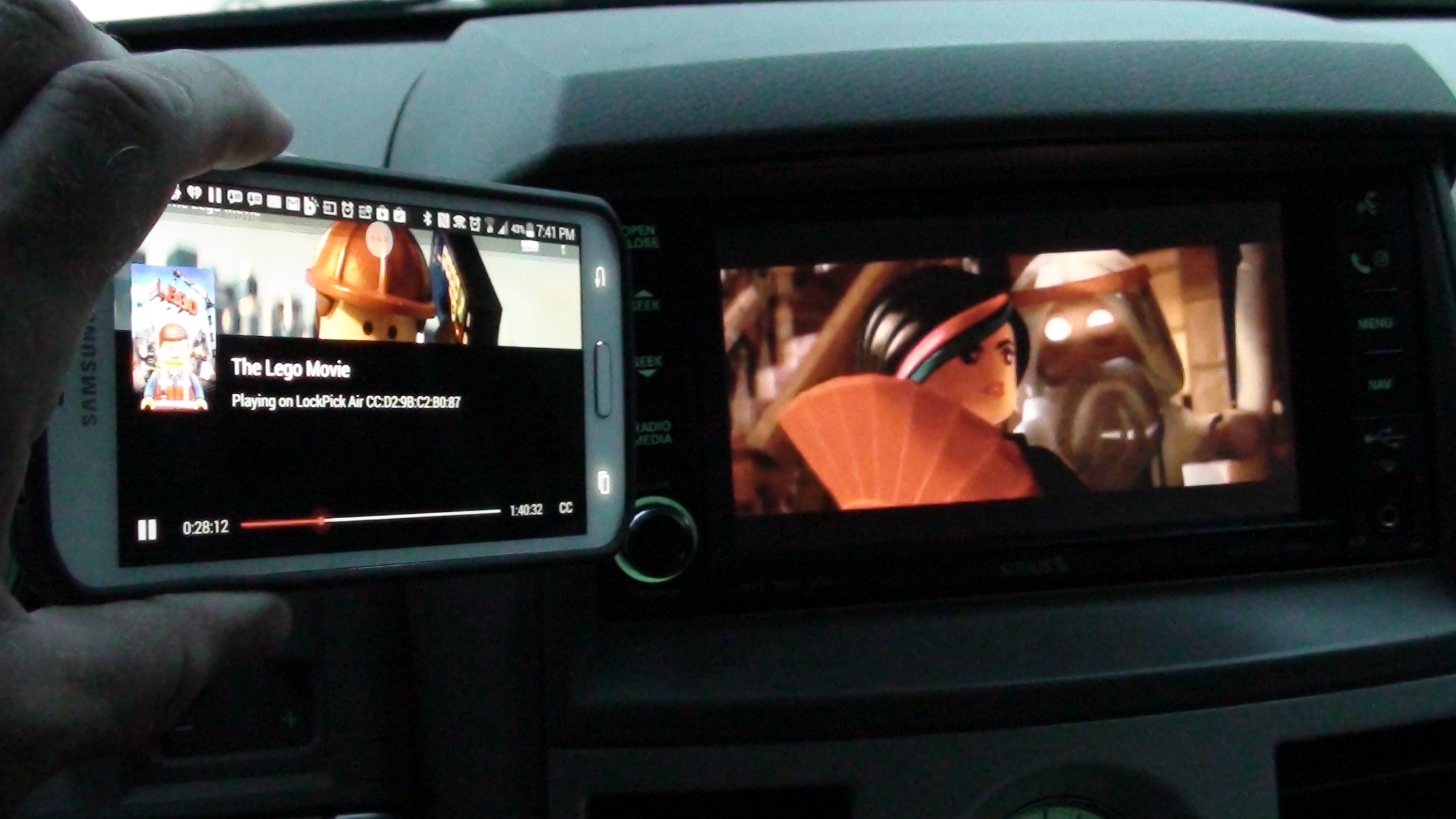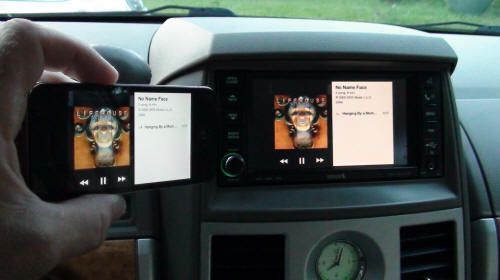 WiFi Mirroring - smartphone Streaming without external modules, all included in the same interface.
---
TOUCH THE REMOTE CONTROL AND ACTIVATE THE LOCKPICK AIR "ON SCREEN DISPLAY" MENUSFOR QUICK AND EASY OPERATION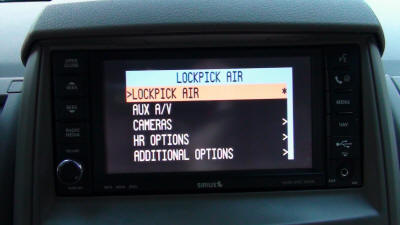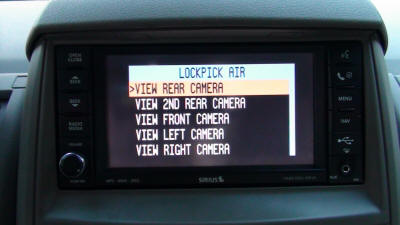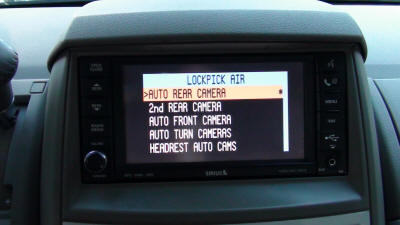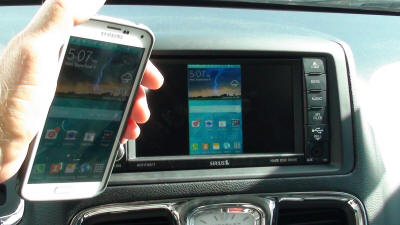 ---
Main features:
The new LOCKPICK AIR allows wireless Streaming and Mirroring from your smartphone or tablet directly to the Mygig screen and audio system!!

Stream NETFLIX movies and TV shows from your Android smartphone or tablet directly to your radio.

(See Apple note at bottom of page)

View your maps and get turn by turn guidance from your phone and mirrored on your screen (great for non-nav radios - makes an instant upgrade)

View the internet and text messages

Listen to your music and see the album art

Stream feature movies saved on your phone (Android 0nly) to your Mygig radio

Select from 3 types of streaming modes - DLNA (Apple) - Miracast (Android) - WiDi (Intel)

Remote Control,for all functions.

On screen menus for easy operations

Automatically activates the camera input on all Mygig radios as well as the VES and the Sat TV mode.

*

The interface allows manual and automatic activation of front/rear/2nd rear/left/right cameras and provides standard video inputs for each as well as providing camera power connections.

AUX inputs for video and audio are also included allowing connections from any type of multimedia device to display on the front screen and the audio to be heard through the sound system.

HDMI input.

Also, the LOCKPICK AIR provides outputs for audio and video to external screens or headrests. The output is fully dual zone allowing independent viewing of video and audio from any of the connected sources regardless of what is being viewed on the the front screen.

Of course, the LOCKPICK AIR can allow navigation input and address searches while in motion as well as unlock the factory DVD player for use anytime.

USB upgradeable to keep it current with Lockpick advances and vehicle changes.

Selectable language - English or Spanish

PLUG AND PLAY INSTALLATION - SIMPLE - NO WIRING, SOLDERING OR TAPS - JUST PLUG IT IN!

This unit does everything!!
Apple streaming note: Apple markets a device called Apple TV which permits wireless streaming video from an Apple smartphone to the Apple TV for viewing on your television set. Apple restricts some streaming so that only Apple TV receivers can show video. The Lockpick Air will allow mirroring of your smartphone including all phone displays such as map, internet, pictures, texts, games etc. Videos recorded on your device will stream to the Lockpick however, videos downloaded on iTunes are blocked. Updated versions of the Netflix App (5.0 and above) will not stream. If your device still has the older Netflix version (4.31 or below) video streaming is still possible. YouTube video streaming is also restricted to Apple TV, but YouTube Apps such as PlayTube restore this function seamlessly and are free to download on iTunes.
Latest Apple iOS 9.x systems are supported bt the new CI-MYGIG-AIR 2

Android phones have no such restrictions and will connect and stream to the Lockpick Air all functions.
*In some areas of the world (Europe), the MYGIG radio does not have the internal hardware to be able to use this feature.This is a MYGIG limitation, not a limitiation of this interface.Please read instruction file.
Compatibility:
| | |
| --- | --- |
| Model | System |
| Ferrari California | UConnect MYGIG |
Delivery contents:
Wiring diagram: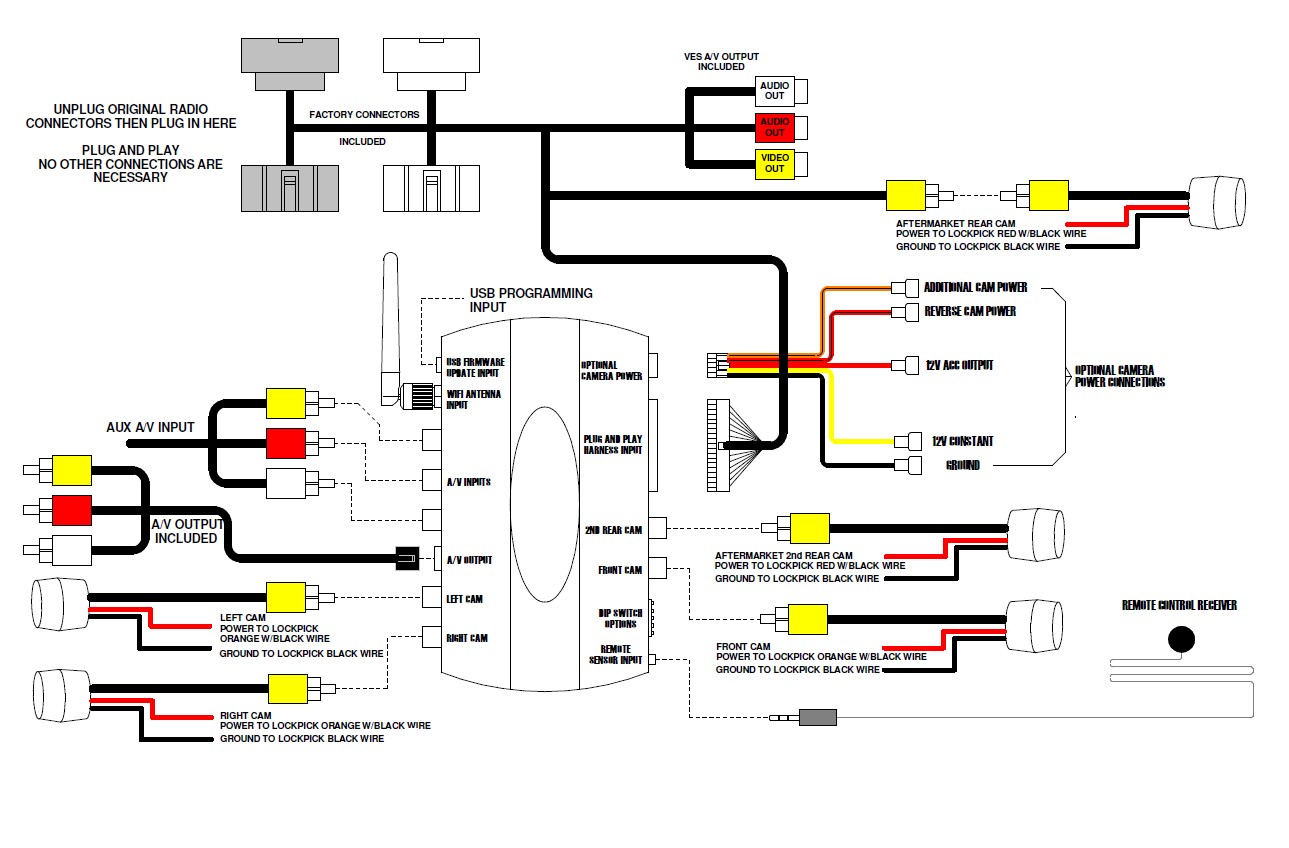 ---
Remember that in some states it is illegal to use the video in motion while driving!
The manufacturer of this item, and the administrator of this site will not be responsible for any damage to persons or property caused by improper use or in terms contrary to the laws.