MAESTRO 2.0 is a revolutionary and complete appliance that, in few easy operations, allows you to connect, to aftermarket and to OEM car radios, three different and selectable devices such as: Apple iPod player/iPad/iPhone, USB pen and auxiliary audio source.
MAESTRO 2.0 is certified with Apple product mentioned and with any USB pen or Hard disk. Furthermore, on the Aux in input, it is possible to connect audio sources like: Mp3 player, Dvd player, portable navigation systems, etc.
Device functions can be directly controlled by the remote control (optional) or by steering wheel commands, where provided, both on Resistive and Canbus cars. This is a really exclusive characteristic
for a universal product.
MAESTRO 2.0 is able to transfer all text data and menu data, to the radio display thanks to RDS protocol.
In this way, source name, folder name and song title can be directly read on the Radio display. Each source can be managed by the car original steering wheel commands.
Interface menu, if selected, can be visualized on the radio display and at the same time can be heard from the speakers through a speech synthesis.
MAESTRO 2.0 has an audio quality comparable to the CD audio one!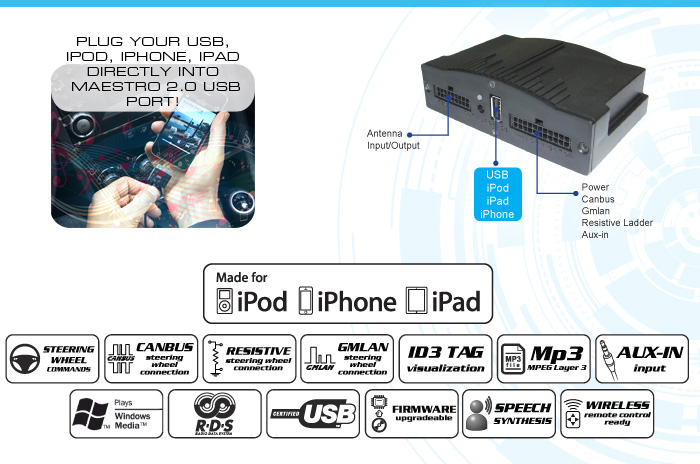 Main features
Multimedia
Supported Audio Formats
FM Modulation
FM stereo modulation in to 8 information selectable frequencies with RDS information

Pre-Amplified Audio Output
Steering Wheel Commands Protocols
Display Information
Upgrade
Vocal Information
Voice based information system for driver safety

Menu, setup, events information

User friendly menu
Remote
Kit content:

Maestro 2.0 universal IPOD/IPAD/IPHONE/USB/AUX-IN interface with loose wires harness, car specific plug&play harness can be purchased separately

Antenna specific car adapters are not included and must be bought separately

Compatibility:
---
Although Paser tries to keep information about products constantly updated, no guarantees are given about the accuracy. Paser disclaims all responsibility for any error or omission into that contents.