The new WEFA USB / AUX / Bluetooth interface allows you to stream music from any smartphone, mobile device or tablet from your car's original audio system.
It is also equipped with Bluetooth 4.0 Handsfree functionality with external microphone to allow you to converse hands-free.

One of the main advantages of the new USB / AUX / Bluetooth WEFA interface is represented by the support of A2DP, AVRCP, HFP, SPP, GATT, ATT technologies that allow you to control the playback of the music files stored on the associated Bluetooth device through the car radio commands. or those behind the wheel.
It is compatible with all Android, Windows Mobile, Apple iOS and Blackberry smartphones and is ready for use as soon as you enter the vehicle, there is no need to connect any cables to the device (except for charging if necessary).
Main features:
Connect any Android, Apple, Windows and Blackberry Smartphone in Bluetooth 4.0 mode and listen to music in wireless streaming from the original audio system of your car.

Control playback using the next / previous track, fast forward / reverse, volume +/- of the original car stereo or those on the steering wheel.

Connects directly to the original car stereo CD Changer port, high quality sound without interference.

Plug and play - maintains the original appearance of the dashboard, thanks to its small size it can be easily hidden.

Incorporates Bluetooth hands-free functionality (pauses music upon incoming / receiving a call and automatically resumes playback when finished)

Answering / Rejecting calls using original keys (Fast forward FF).

Support

A2DP, AVRCP, HFP, SPP, GATT, ATT technologies

Bluetooth audio streaming and playback control.


USB port 1:playback of audio files from USB pendrive controlling their execution from the original keys of the car radio and / or from the steering wheel controls (if supported) supports MP3, WMA, FLAC (8-16-24bit), ACC files , MP4, M4A, WAV, AIF, AIFC.

USB port 2: provides a power supply for charging your device -

5V-2A

(has no other functions, charging cable not supplied).

Auto pause function when switching to CD / TAPE / FM, etc.

AUX input with 3.5mm jack for connecting devices without Bluetooth function.

Supports many apps such as Spotify, Google Play etc. including the control of some features.

Separate microphone for handsfree included in the kit.

Interface size: 4.5 x 7.5 x 2.0cm.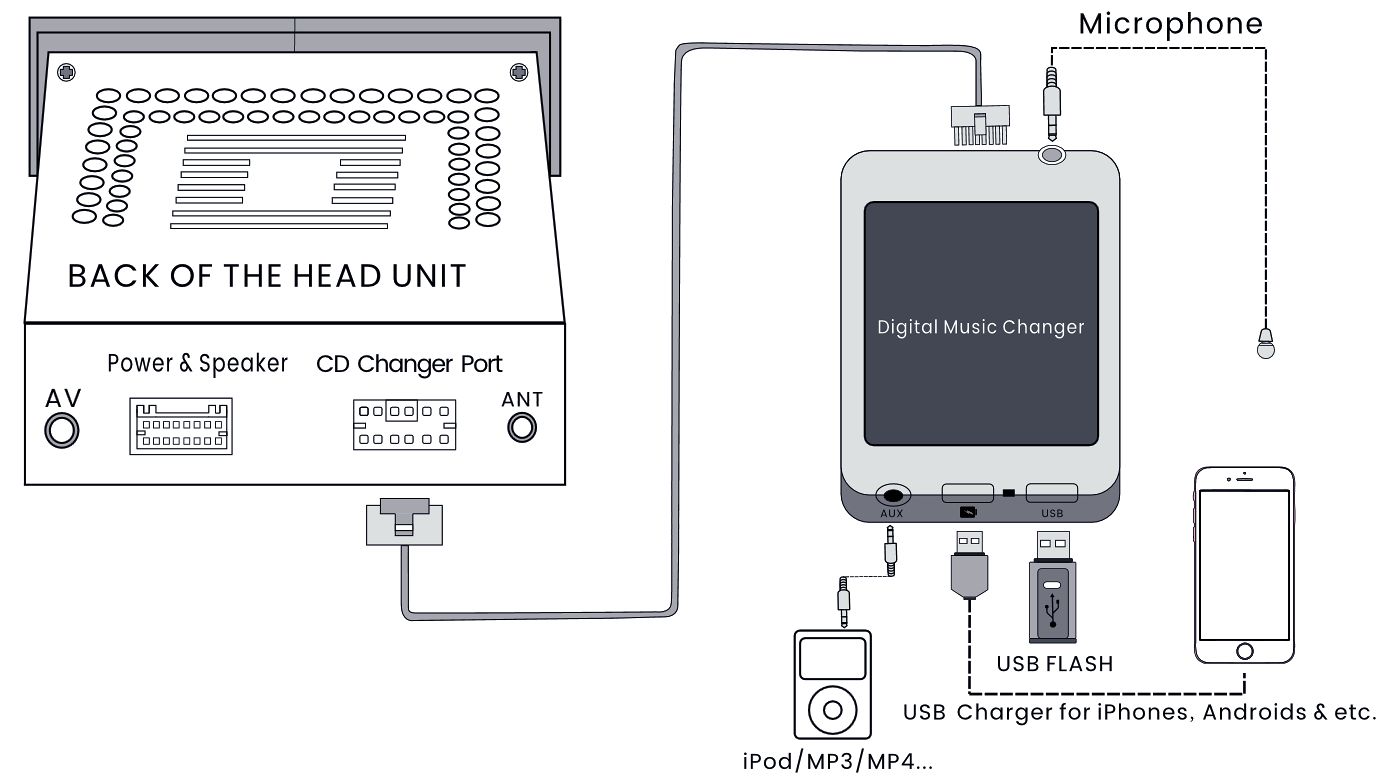 Installation:

The interface connects to the CD changer port located on the back of your car stereo. On some cars, this can be reached from the passenger side whilst on others you will need to remove the radio. Instructions how to remove your radio to access the CD changer port can be found through many online resources, car manuals or by a local installer.
COMPATIBILITY
Model

Year

Radio

3

Series

E36

1991 - 1998

Business Radio


Compact E46

1994 - 2006

Business Radio

3

Series

E46

1998 - 2005

Business Radio

,Professional,4:3 Navigation

5

Series

E 39

1996 - 2000

Business Radio

,

4:3 Navigation

7

Series

E38

1994 - 2001

Business Radio

,

4:3 Navigation

X3

2004 - 2006

4:3 Navigation

X5

2001 - 2005

4:3 Navigation

Z3

1996 - 2002

Business Radio

Z8

2001 - 2002

Business Radio

Not compatible with BMW iDrive systems,optical fiber based car radios (MOST) and BMW radios with DSP amplifier.
BMW ROUND PINS RADIO CONNECTOR (BMW1):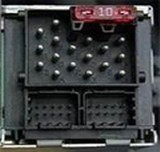 ---
---


The interface is compatible with any Bluetooth enabled device including Andriod, Blackberry, Windows, iOS mobile phones and tablets.


Technical specifications:


Power supply voltage: 10.8V ~ 14.6V DC

Power consumption during operation: 200mA

Standby consumption: 3 mA

Operating temperature - 35 ℃ ~ + 85 ℃

DAC audio converter: 20 bit

Total harmonic distortion: 0.05%

Signal to Noise Ratio: 90dB

Frequency Response: 20Hz-20KHz

.

Package includes:
WEFA USB / AUX / Bluetooth interface

External microphone (cable length about 300cm)

Cabling for connection to the CD changer port of the car radio (specific for each model)

AUX cable with 3.5mm jack / jack connectors (approx. Length 100cm)

USB> SD / microSD adapter

Instructions for use in English, downloadable in the "Download" section

Interface box
EXAMPLE OF SUPPORTED RADIOS: