Video interface for Maserati Touch Control


This interface allows you to integrate an external video source to your cars factory fitted screen. Once connected it gives you the ability to connect an in car DVD player, games console (such as Playstation2 or Xbox), iPod video, digital TV tuner, rear view camera, car navigation GPS etc to keep your passengers entertained.

The multimedia interface has 2 video inputs, a rear camera input. The interface does not replace your original system - it offers perfect integration to maintain your OEM appearance. The interface connects directly to the head unit and you can select video source using button on the steering wheel,or the provided switch to change video source (depending by the systems).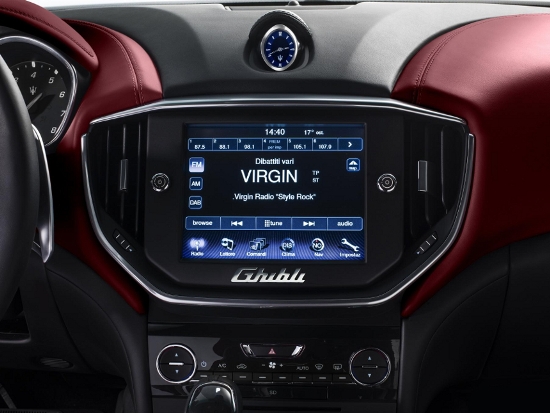 ---
Product features:
Video-insertion

for factory-infotainment monitors

2 CVBS video-inputs for after-market devices (e.g. DVD-Player, DVB-T tuner, .)

Built-in audio-switch (no audio-insertion)

Rear-view camera CVBS video-input

Automatic switching to rear-view camera input on engagement of reverse gear

Activatable parking guide lines for rear-view camera (not available on all vehicles)

Video-in-motion (ONLY for connected video-sources)

Compatible with factory rear-view camera

AV-inputs PAL/NTSC compatible
---
Compatibility:

Compatible to MTC - Maserati Touch Control 8,4inch.
Model
Navigation
Ghibli 2014 > 2017

MTC - Maserati Touch Control 8,4"

Quattroporte 2014 >
Limitations:
---

Specifications:
BATT/ACC range

7V – 25V

Stand.by power drain

<5mA

Power

0.2A@12V

Video input

0.7V˜1V

Video input formats

PAL/NTSC

Temperature range

-40°C to +85°C

Dimensions video-box

1

54 x 22 x 92 mm (W x H x D)

Dimensions CAN-box

73 x 22 x 45 mm (W x H x D)
---
Connections:

Video-insertion: 4-pin HSD

Power and CAN-bus: Plug & play

Video-input (2x): RCA connector

Rear-view camera-input: RCA connector

Audio-switch: 2-channel RCA connector
---
Remember that in some states it is illegal to use the video in motion while driving!

The manufacturer of this item, and the administrator of this site will not be responsible for any damage to persons or property caused by improper use or in terms contrary to the laws.