BMW NBT2 (EVO) ID5 ID6 Wireless CarPlay and Android Auto integration interfac with 4+2pin HSD+2 LVDS
This interface allows you to integrate the CasPlay and Android Auto systems to your cars factory fitted screen. Once connected to your iPhone it gives you the ability to use the GPS navigationan, play music, make handsfree calls, send messages and use Siri with the car original controls.

Features:
OEM integration work with your original display and media

Works with wireless Apple CarPlay, pairing via Bluetooth, transfer via WIFI

Works with Wired CarPlay also, turn off wifi at first, connect via lighting cable (wired keep your phone charging at the same time)

Android Mirroring-Link for Android Phones

GPS navigation Apps, Google Maps, Waze and Apple Maps are all available, live traffic information

Music Apples Spotify, Apple Music, Amazon etc. audio through factory

Mercedes NTG4 media

, lyric show on video for some apps

Voice control by saying "Hey Siri.."

Aftermarket front/rear/360 camera input. (Dynamic guidance lines are supported)

USB flash drive to play music and videos by connect USB port from CarPlay kit

EQ adjustable. best audio quality. choose your favourite style freely (Pop, Rock, Soft, Standard...)

Full OEM buttons control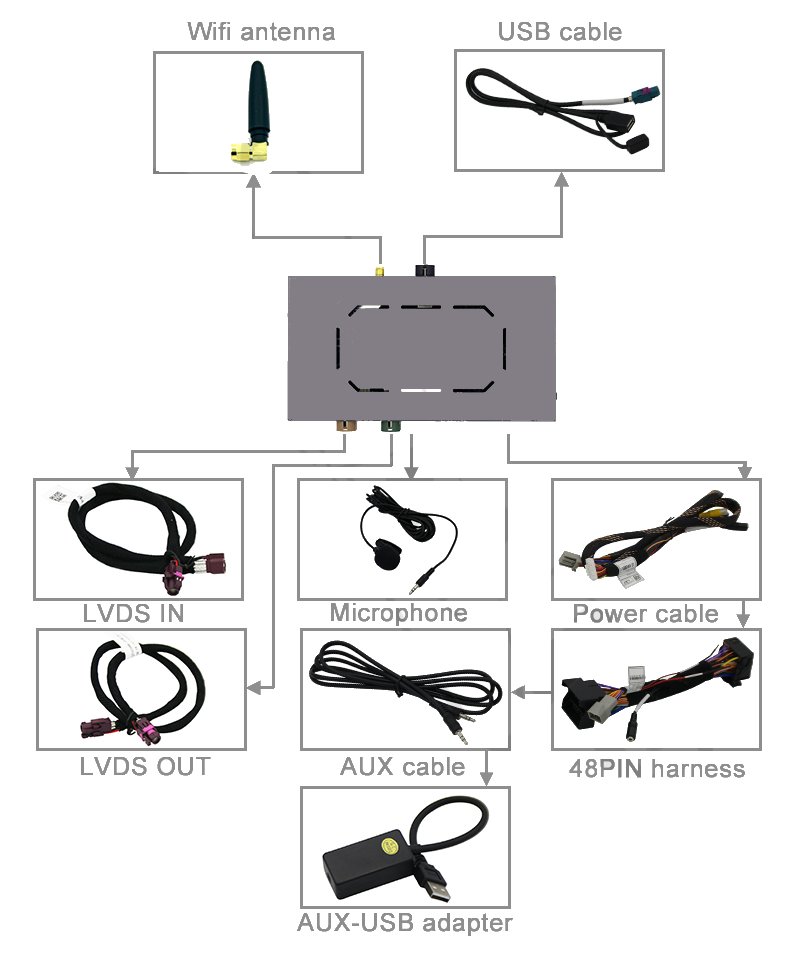 Compatibility:

Compatible to BMW vehicles F-and G-series with NBT2 and 6. and 8.8 inch monitor with HSD+2 LVDS plug. For Touch and non-touch monitors.
Model
Navigation

1-series

(F20/F21/F44/F52)
Radios, S6UNA Navigation, S606A Business Navigation, S609A Professional Navigation or S6UPA Navigation Plus -

NBT2 EVO with 6.5, 8.8 inch monitor




2-series

(F22/F23/F45/F46)

3-series

(F30/F31/F34/G20)
4-series (F32/F33/F35/F36)

5-series

(F10/F11/G30)
6-series (F06/F12/F13)

7-series (F01/F02/F03/G11/G12)

X1 (F48)

X2 (F47)

X3 (F25/G01)

X4 (F26)

X5 (F15)

X6 (F16)

M2 (F82)

M4 (F87)

M5 (F90)
NOTE:
OEM monitors with and without a touch screen are supported. But OEM touch could not operate the add-on CarPlay integration, please use iDrive controller instead.

For cars without the original audio AUX-IN input, the audio signal must be inserted using an AUX> USB adapter.
Connections:
Video-insertion: 4-pin HSD LVDS

Power and CAN-bus: Plug & play

USB harness

CarPlay Android Auto interface
---
Remember that in some states it is illegal to use the video in motion while driving!

The manufacturer of this item, and the administrator of this site will not be responsible for any damage to persons or property caused by improper use or in terms contrary to the laws.