This is a professional car standard Wi-Fi A/V mirror converter of Smart Phone to Car Audio which transfers the audio and video of smart phone or pad (live screen) to Car Audio player. With this device, user can enjoy all applications & contents of smart phone in car.
New model with USB Slot for MP3 and MP4 playback, HDMI output and dual 2.4GHz + 5GHz WiFi standard
USB OTG connection for iPhone mirroring (also available WiFi mirroring)

Enjoy below listed function from your smart phone to your car audio and video:
Online navigation (advanced function: TMC, location share, free map upgrade)

Music Playback and Video Watching

Internet surf (movies-watching, news-browsing, twitter, Google talking)

Games Play

USB MP3 and MP4 playback
Technical data:
Power supply: 12V

CVBS output resolution: 800*480


HDMI output

Wi-Fi Standard: Wi-Fi 802.1 b/g/n

Operating system: Linux

SDRAM: DDR3 2G

NOR Flash: 2G

Frequency:MIPS 500MHz

Transmission distance:Up to 20M to playback music, photo and pdf files, Up to 15M to playback video files.

Data Transmission Rate: Up to 8Mbps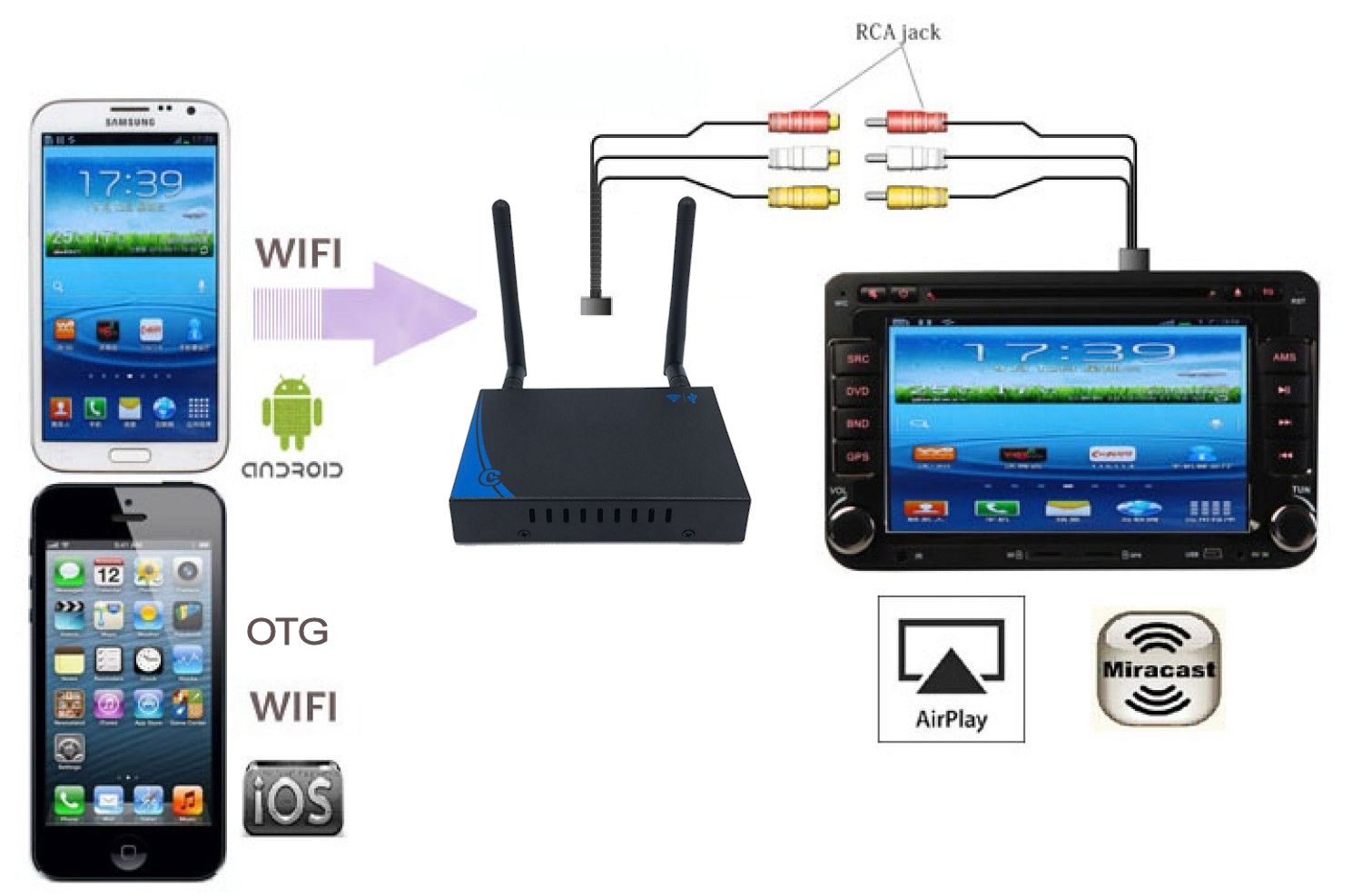 W

iFi Antenna connectors (2 x antennas included)

Menu/Mode button

USB OTG port for iPhone wired mirroring

Power supply,CVBS video and RCA stereo audio output

HDMI output


USB Slot for MP3 and MP4 playback
Power:

12V DC

Power comsumption:


200mA without WiFi connection


500mA with WiFi connection

1A USB charging


WiFi

Standard



802.11 b/g/n

2.4GHz + 5GHz




Input

WiFi Screen Mirroring Apple AirPlay, Android All Share Cast (Miracast)

Audio out


2 x RCA stereo (L+R)

Video out

1 x RCA Video CVBS + HDMI

Temperature range


-20°C - 70°C

Dimension

104 x 85 x 20 mm

Antenna lenght


85 mm

Weight

153g
Mirroring function is requested to connect supported devices to this interface (Apple AirPlay, Android AllShare Cast, Mirroring):
---
Remember that in some states it is illegal to use the video in motion while driving!

The manufacturer of this item, and the administrator of this site will not be responsible for any damage to persons or property caused by improper use or in terms contrary to the laws.