Audi MIB and MIB2 video interface with front, rear and side camera inputs
The v.LOGiC camera interface allows to connect a rear-view camera and a front camera and side cameras to the factory navigation system of the vehicle manufacturer. From all operation modes, the video is automatically switched to connected factory and after-market cameras according to the users needs and switched back to previous video after the parking maneuver is finished.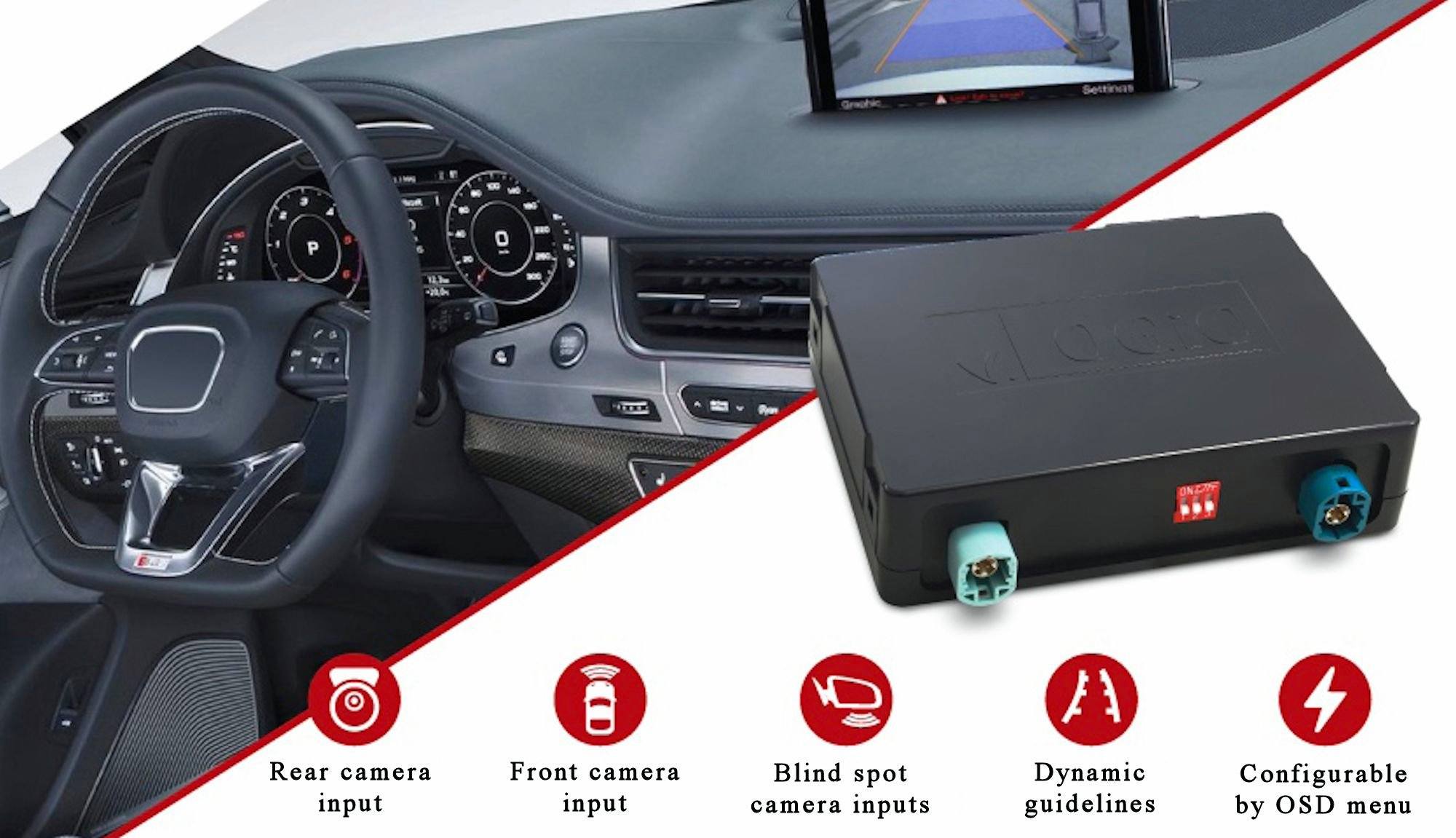 Product features:
Picture-in-picture mode combining after-market rear-view and front camera picture(s) with factory parking sensor graphics

Interactive lane lines with calibration function

Simultaneous use of picture-in-picture factory parking sensor graphics and interactive lane lines

Own on-screen display and setup

Controls of AV sources (e.g. DVB-T Tuner, ...) by MIB system

Rear-view camera input

Automatic switching to rear-view camera input on engagement of reverse gear from all operation modes

Front camera input

2 Side camera inputs

Side- or front camera activation via blinker signal

Manual switching to cameras

2 trigger outputs (+12V max. 1A), separately adjustable switching events (CAN, ACC, camera, reverse gear)

Compatible with all factory video accessories

USB update-port for software-updates by consumer
---

Compatibility:



Model
Radio/Navigation

Boxster

PCM 4.0

Cayenne
---
Limitations:


The interface inserts ONLY video signals into the infotainment. For inserting Audio signals either the possibly existing factory audio-AUX-input or a FM-modulator can be used. If 2 audio sources shall be connected to the infotainment, an additional electronic is necessary to switch them.
Specifications:


| | |
| --- | --- |
| Operation voltage | 10.5V - 14.8V |
| Stand-by power drain | 1mA |
| Operation power drain | 190mA |
| Power consumption | 2.6W |
| Temperature range | -20°C bis +80°C |
| Dimensions video-box | 141 x 30 x 105mm (W x H x D) |
Connections:
Video insertion: 4pin HSD

Power: cable with open ends

CAN: Plug & Play (12pin insert chamber E of the Quadlock

Video-inouts (4x): female RCA connector
Delivery content:
Interface box

Power and CAN harness

Video inputs harness

LVDS cables

---
Remember that in some states it is illegal to use the video in motion while driving!

The manufacturer of this item, and the administrator of this site will not be responsible for any damage to persons or property caused by improper use or in terms contrary to the laws.