CarPlay and Android Auto integration interface for Mercedes NTG 4.5 systems with 4pin LVDS monitor plug
This interface allows you to integrate the CasPlay and Android Auto systems to your cars factory fitted screen. Once connected to your iPhone it gives you the ability to use the GPS navigationan, play music, make handsfree calls, send messages and use Siri with the car original controls.


Features:
Apple CarPlay integration

Android Auto integration

WiFi Mirroring

USB multimedia audio and video player

2 x CVBS rear and front camera inputs

Operate by OEM Comand controller & steering wheel buttons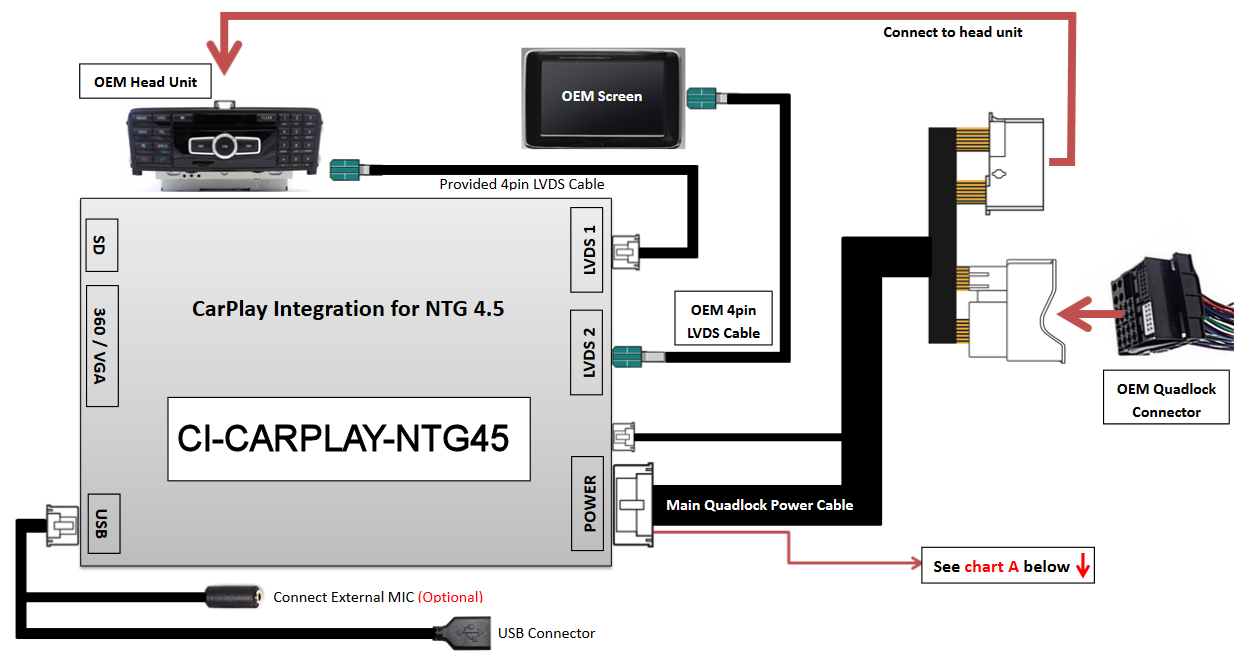 Compatibility

Compatible with Mercedes Benz vehicles with Comand Online NTG4.5 and Audio20 NTG4.5 with 4pin HSD LVDS connector on the monitor
Model
Radio/Navigation

A-class (W176) 07/2012 > 08/2015

Comand Online NTG4.5

Audio20 NTG4.5

B-class (W246) 11/2011 > 10/2015

C-class (W204) 03/2011 > 10/2014

C-class Coupe (C204) 06/2011 > 2014

CLA-Coupe (C117) 01/2013 > 09/2014

CLS-Coupe (C218) 06/2011 > 07/2014

E-class (S/W212) 06/2011 > 10/2014

E-class Coupe (C207) 06/2011 > 05/2015

G-model (G463) 07/2012 > 09/2016

GL-class (X166) 11/2011 > 08/2016

GLA-class (X156) 09/2013 > 08/2015

GLK-class (X204) 01/2011 >

ML-class (W166) 11/2011 > 07/2015

SLK-class (R172) 03/2011 > 2015

SL-class (R231) 2012 > 09/2015
Connections:
Video-insertion: 4-pin LVDS

Power and CAN-bus: Plug & play

USB harness

CarPlay Android Auto interface
---
Remember that in some states it is illegal to use the video in motion while driving!

The manufacturer of this item, and the administrator of this site will not be responsible for any damage to persons or property caused by improper use or in terms contrary to the laws.